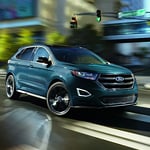 If you are looking for a popular mid-size SUV with great design, then you have to see what the Ford Edge has to offer. The Edge has been upgraded to feature some of the most innovative design inside and out. Here are two top design features now available.
All Ford Edge models come standard with a unique rotary shift knob. The shift knob frees the area around to center console. This allows you more space to store your smart device and access the vehicle's USB ports. On the exterior of the Edge, you will find LED headlamps and LED taillamps that allow you to better see and be seen by traffic.
Get into a brand new Ford Edge to see all these great design features for yourself. Take a test drive at Jim Hayes Ford-Lincoln Inc. We are ready to offer you an exciting deal on the Edge of your choice. Visit us today.