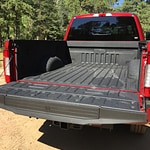 If you are looking for a durable heavy-duty truck, then you will want to see what the popular Ford Super Duty has to offer. For years, the Super Duty has been a fan of those who demand the toughest trucks on the road.
One key durability feature of the Ford Super Duty is its fully boxed frame made from 95% high strength steel. This box frame features 10 cross members that allow it to handle big payloads without overstressing the suspension. To ensure that the Super Duty can last, this truck has been tested for over 20 million miles. From the coldest arctic temperatures to Death Valley-like environments, Ford has put the Super Duty through the most intense stress tests on the planet.
See why the Ford Super Duty is a durability leader. Get in and test drive the Super Duty at Jim Hayes Ford-Lincoln Inc. We're going to save you big money on this big truck.